First of all a message for the Seniors as well as the Juniors, one thing I have learnt is the gap between seniors and juniors… Is what I have faced the most… So keeping that in mind I treat all my juniors not less than my own year people since that's the only way which is correct and the juniors also keep in mind that I am never disrespected.
Introduction
I am not a regular writer on this page. According to Abhishek, I'm "The Crisis Friend" and according to ethereal I'm "The backbone of the event". Let's get to the point where it all started… It was a usual college day in the break of the 5th semester. So we were talking about this student's chapter committee casually like who should be the next convener, Abhishek told that he had no interest in it so he suggested my name to be the convener. I wasn't pretty sure about being one but it was something I could take up the responsibility and manage it well. After a few days, this thing changed as Abhishek started growing in the picture. I had a personal talk with him as I heard that he was also trying to contest the convener election in which we talked about who should be the convener like it was basically on skills and definitely more things we had a talk for an hour or so in which we decided that let others decide who will be better amongst us since we couldn't reach the conclusion since our skills were partly the same.
And I decided if I am not the convener then no one other than Abhishek would be able to beat him. So one of our friends said that Abhishek should be "the chosen one". So I and that friend went to the newly formed 2nd year CSE where the friend had friends we took the opportunity and rigged the votes as much as we could. Then the day arrived when the election had to take place and I met a few people who I could make contact with. So I was the chosen representative with 60 votes similar to that friend and 3 less than Abhishek(ps: we didn't know how the extra votes did get counted lol.)

The Plot Setup
So now let's get your jetpacks ready and let's go ahead by 3 months. On a splendid November afternoon, one of my friend from IIT Kanpur called me up and said "bhai ek kaam h.."
I said bol to which he replied this" tum log ka cllg if its interested can collaborate with IIT K for the event called techno cruise and told all its details' ' we won't talk about the details as less time to talk. So we were offered that this could be conducted before Feb on any weekend. The toughest part is to get permission for this kind of event in a private college which hasn't been a part of such events any day. We had to run to the Head of our dept. And then the Vice Principal which turned into the SBI office where we were sent to and fro between a few tables to get our work done. The permission was going to be granted but we didn't know what was coming. It was the last working day of the 5th sem and we went and finalised the dates to be 17 and 18 January 2020 but destiny had some other role to play. We got the MoU signed on 10th Dec 2019 and then we started promotions for the event. Our first setback didn't wait for too long when we got to know our exams had to be postponed till Jan due to CAA protests getting violent in our state. We got the new routine towards dec end so somehow we had to get the dates changed since it was overlapping with the exams of some dept in our college. It was 2020. The IIT had started its preps for the events finding the speakers…. till then I had known the head of the events Namit I don't know if he would read this. So we had a talk previously that we could have to postpone the dates due to unforeseen circumstances so we had mutually agreed to take the dates to 31st Jan and 1st Feb 2020.
The new dates had arrived so we started the promotions again. I had made a team of 8 individuals who would take control of the event so I asked all of them to do whatever possible and let's give them a very healthy response from our college. As the days were passing we all started concentrating on our end seems.

Here We go again…
Finally, when we were getting back after giving the last paper I received a call from Namit that the registrations were at a standstill and were not increasing till then only 50 registrations were made. We went onto class and wing hopping in the entire campus and due to that the registrations increased but were still not up to the mark. So I called up Abhishek and said we were short on registrations to which we decided that I and 2 others would go for college hopping in Kolkata and others would do the class and wing work again. The choosing of these two people had only one criterion: we had to break our daily routine of going to college and we were single af. So, the journey started with going to heritage and ended on RCCIIT don't get confused by the name IIT delegate lol. It was a day full of fun as we got to know about the cultures of other colleges as well that surrounded us.

We returned and after 2-3 days we got to know that the registrations were increasing and it had reached close to 200 marks but we had promised them 200+ and not less than that. We were optimistic and waited as the days came by and we received good news from IIT that we had crossed almost 250 registrations just a day before the event that is on the day better known as Bengali Valentine.
But we are going to go 3 days back when we had another setback that we will be having holidays on 31 and 1. That left us dumbstruck we had to go again round that permission routine but till here the Head of our dept and all the teachers supported us since everything had been done and registrations have been made and refunding them or shifting of dates were impossible by now. So I had decided if this requires me showing up to the chairman of our college then I would also do that for this event. I wasn't well the next day but had to come to the college for finalising the things for the event 2 days after since it was the last working day of the week for our college. We finalised things and got to know that 2 of our professors would remain there till the end of this event on both the days. We had no such problems with profs coming to the college.
Now as we move closer I was shocked to hear that my friend wouldn't come for the event since their mid-sems had to start just the week next to the event. I told everyone that not a single person would come from the IIT and we have to take control of the entire event. Another thing which I would like to mention is Abhishek not going to his maasi's marriage which I never appreciated. Abhishek called up for the volunteers and I was excited as well as I had my nerves running to the fullest. I called up everyone from the team whom I had chosen for the event. In the team was ethereal instead of "A guy who took his place in the student chapter committee" which I suited was perfect since he did most of the work with me and that guy enjoyed the liberty in the committee. I won't mention his name since it would raise hatred for him but you will get to understand if you're clever enough.
Everyone who had registered was asking about their confirmation so we had to create a group for event queries.
Day-1
Now we move onto the best part of this event that was the first day of the ML workshop since it would only get longer and boring if I start going into every fine detail of the event. The first day started off well but the speakers had to wait longer. I was a bit late in reaching the college as I had to take a bouquet from the florist so I greeted them as soon as I reached. Now as the workshop started I went to the auditorium as everything was going fine so few of my team members and few volunteers went to play UNO in the nearby room. After a few moments, one of my teammate who is a close junior to me came and reported that some things were wrong and so we went immediately to help them but as certainly I should say that I have never liked ML and never studied it before… Basically never dealt with any of it so I could be of the least help but I stayed there and solved a few problems since it was regarding python installation and god not forbid I had done it before when I started learning python.

After that during lunch we had it ordered from Zomato and had it in the canteen with coke and dew Q ki darr k aage jeet h XD…

I have given speeches, took part in debates, Headed the school drill, Headed a house, but I never felt that special when I finally took my place on the stage to do an activity which was given to us by IIT Kanpur to test the knowledge of people here was a simple 20 mins activity towards the end of the event. I have never felt so special since it was a very big success for us. Even I had given talks in our college on different occasions but this was something very different. I now understood how it was felt by Rohit Bhaiya 2years senior to our batch when he was allowed to speak at the event conducted by GDG.
The day went swiftly and then we had the usual station ADDA and then we all left happily and no one knew how destiny unfolded it's the last ACE.
Another setback
It's 8:00 pm I receive a text that the other speaker had cancelled the one who was being sent as a 3rd-year student to which I replied that we had been promised some industry person and I wanted that old speaker back whose profile had been sent to me earlier. They told me the person had issues from the beginning of this term due to the preceding year he had some differences. Let's not go into the matter the information given will suffice. So they said if you could talk to him amid these circumstances and see if he says yes then understand his terms and conditions of coming.
ss
Over the call, he told me of some such problems the speaker had with the IIT people and I never judged among him and the IIT who was wrong since I have good relationships with both of them. So, he agreed since he also belonged to the same city and gave his terms and conditions which I conveyed to my friends at IIT. In due course, I was awake till 3 am till he sent his confirmation and the timing he would reach our college. No sooner did I receive the confirmation, I sent for Abhishek to sleep.
Day-2
We reached on time and everything was on time. There was nothing I could do to get the situation a bit better since everything was going so well. But I was very much tired and sleepy so I was speaking bullshit in front of people. Abhishek on that day didn't want to give the mic to me as I was not in the phase to speak, something really bad had happened with me which I don't like to mention. Anyway, the day went well and we had our group pictures, solos, duos ….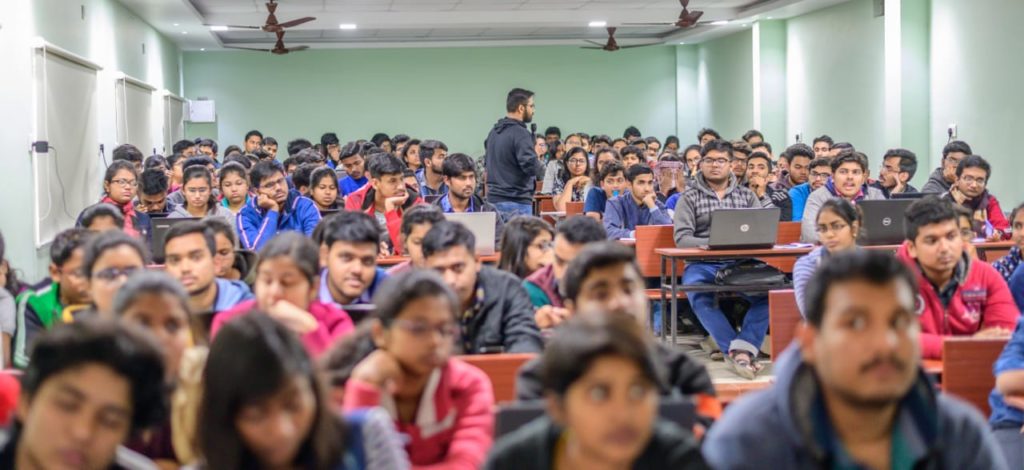 Obviously, after the event, the best part was receiving a call from an IIT's student that our certificates and goodies would be dispatched in a few days and I was asked about the participation and they gave us the best news till date that our college was amongst the top 3 colleges who had conducted techno cruise in terms of participation. This was my greatest success to date. I had made a speech for ending the event but I felt so heartfelt after listening to this that I couldn't even speak any single word. I spoke like anything and then left the mic.
We had a small talk and then we left …..
This event would always remain special and close to my heart. I would advise everyone to expect less and work since nowadays no one is going to make up to your expectations. This is what I have learnt all the years at college or school whatever you say. But I am grateful to Abhishek to let me contribute a blog to his blogging website.
Well well, I would like to clear a few things via this that I have no regrets that Abhishek is the convener haan beech beech mein I curse him for that XD. The team which is being talked about was headed by me (only a few know it) and consists of Abhishek, Ankit, Mayukh, Ashutosh, Chandrachur, Bijaya and Debut. A hearty thanks to the team and the volunteers: Debapam, Archika, Shaurya the photographer <3, Sayan, Shreyee, Riddhi, Trisha and if I miss anyone then no hard feelings for them but thanks to each and every member who contributed. I know, We pulled this off well!!

Another thing which I criticise in my college is passing on comments on girls to anyone who's reading this please stop this and let's make it a more peaceful place to study. Another thing is to bring life into the coding environment of our college so that we feel good and fear the competition you'll bring to us after a few years. Good luck with the college and stay safe amid the corona days. Maintain your own safety. I had no intentions to write a blog on this but I had plenty of free time amid these holidays so I did this.

Check out the MAIN STORYLINE of COLLEGE LIFE: